Bolton Wanderers' Marcos Alonso quizzed over crash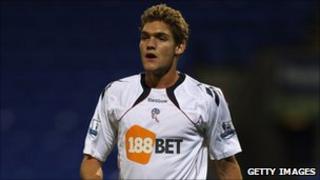 Footballer Marcos Alonso could face trial after a woman died in a car crash in Madrid.
The Bolton Wanderers defender crashed a BMW into a wall near Real Madrid's former training complex, not far from the Bernabeu, on Monday morning.
One woman suffered fatal injuries and another was seriously hurt. Mr Alonso's brother Miguel and former Real Madrid teammate Jaime Navarro were also hurt.
Mr Alonso, who was uninjured, allegedly failed a breathalyser test afterwards.
Police have not revealed what the breathalyser and subsequent blood test showed.
'Formal suspect'
Mr Alonso, 20, appeared before an investigating judge at a closed hearing on Monday evening.
The judge will have to decide if the player caused the accident and the girl's death. If the judge rules he caused the crash he could face a trial accused of involuntary manslaughter.
In a statement, the court said: "Magistrates' Court number four in Madrid yesterday released the footballer Marcos Alonso Mendoza after naming him as a 'formal suspect' in an alleged crime against road safety, a crime of intoxication, of accidental killing and causing accidental injury.
"In addition the judge has removed his driving licence as a precaution and he is banned from driving in Spain for the entire period of the court process."
Night out
Mr Alonso, who joined Bolton Wanderers from Real Madrid last summer, was at home in the Spanish capital on a weekend break.
It is understood he had been on a night out with his brother and Mr Navarro when they met the two women.
The emergency services said the car crossed into the opposite lane, overturned and collided with a wall.
One woman, who has been named only as Barbara, received severe head injuries and died 30 minutes after arriving at hospital.
The other, Teresa, suffered injuries to her thorax and is described as being in a serious condition.
Miguel Alonso also remains in hospital with three broken ribs and bruising to his lungs.
Mr Navarro broke his collar bone and was later released from hospital.