Bolton homes evacuated during huge warehouse blaze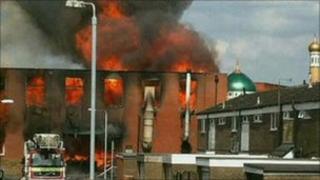 People were evacuated from their homes in Bolton overnight during fire at a large warehouse where crews discovered a gas cylinder.
About 30 properties which neighbour the derelict warehouse on Halliwell Road were cleared of people as firefighters worked through the night.
A 100m (328ft) cordon around the site of the fire, which began at 1450 BST on Friday, remains in place.
The fire service said it was likely that crews would remain all day.
A fire service spokesman said: "The occupants of the evacuated homes stayed with relatives last night and won't be able to return home until we've made the acetylene cylinder safe.
"We have one engine remaining at the scene which is cooling the cylinder, but this generally takes 24 hours as the cylinder was in direct contact with the fire and is at risk of explosion."