Man jailed for murder after fatal spade attack in pub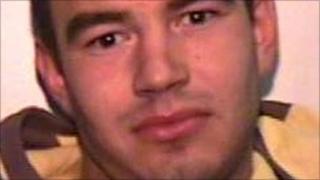 A man who bludgeoned a father-of-four over the head with a spade has been jailed for life for his murder.
Thomas Power, 24, was jailed at Manchester Crown Court for killing Stephen Wilson, 42, at the Fairfax Arms in Prestwich on 23 July 2009.
His victim spent 13 months in a specialist unit at Southport and Formby hospital before dying of an infection caused by his injuries.
Power, of no fixed abode, was told he would serve a minimum of 16 years.
Mr Wilson, who had been involved in an argument with Power earlier in the evening, was playing a gaming machine at the pub when his attacker charged at him with the spade.
He suffered three crushed bones in his neck and was left paralysed from the shoulders down.
'Unprovoked attack'
Power went into hiding and was eventually arrested in Southport on Christmas Day 2009.
"No matter what sentence Power had received, it wouldn't and couldn't replace or give comfort to the void left in all our lives," said a statement from Mr Wilson's family.
Det Con David Thorpe, from Greater Manchester Police, said: "Stephen suffered what can only be described as horrendous and permanent injuries because of Power's reckless and completely unprovoked attack, injuries he had to live with for more than a year before he ultimately died.
"In the blink of an eye many number of lives have been changed for the worse and this incident is a catastrophic reminder of the potential consequences of attacking another person with a weapon."
Mr Wilson left a mother, four sisters and four children, aged between five and 14 years old.