Murdered schoolgirl Tia Rigg 'failed by agencies'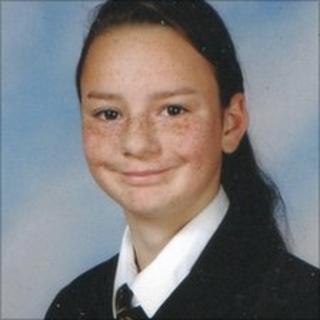 A 12-year-old girl who was raped and murdered by her uncle in Manchester was failed by child protection agencies, an independent inquiry has found.
However, the murder of Tia Rigg was not predictable or preventable, the serious case review said.
Ongoing harm to Tia, due to poor care from her mother, could have been prevented, it added.
John Maden, 38, killed Tia at his home in Cheetham Hill on 3 April last year. He was jailed for life last October.
Mr Justice Keith, at Manchester Crown Court, told Maden - who had lured Tia to his home on the pretext of babysitting - that he would never be eligible for parole.
A serious case review into Salford social service's dealings with Tia was undertaken following her death.
'Serious failings'
She was known to child protection agencies, having been placed on the child protection register before she was born.
She had been the subject of a child protection plan in a number of local authorities, including Salford where she lived before her death.
Maden was not known to agencies, the report said.
The report found "a number of serious failings in the management of this case".
They included:
an "over optimistic and unrealistic perception" of adult A's (Tia's mother's) capacity to care for the children
allowing the children to remain with their mother 18 months before Tia's death, despite domestic violence and suicide attempts
seven separate incidents between October 2009 and March 2010 where agencies should have intervened - but failed to do so
"numerous examples" where information should have been shared between agencies
a failure to appreciate the "growing chaos" within the family
legal proceedings should have been considered to safeguard Tia and her siblings
information about Tia's mother was not properly analysed to give an understanding of the risks to her children
Removing Tia and her siblings from their mother's care "should have been very seriously considered", it said.
Tia's mother had a long history of offending and drug abuse, the report said.
In 1998, child protection agencies said she was "likely to suffer neglect". This was later changed to "likely to suffer physical abuse".
In 2001 Tia was removed from the child protection register. She was not placed back on it in 2004, despite concerns about domestic abuse.
Four years later, Tia and three siblings were made the subject of child protection plans.
'Drugs and violence'
Tia was placed in the care of extended family but returned to her mother in October 2008, after she fell out with her aunt's family.
The following May, the Child Protection Review Conference decided the child protection plans would be discontinued.
The report said that decision was "flawed", and was based on inaccurate information about the progress Tia's mother was making.
She was still taking drugs and there were issues of violence in the family.
Tia effectively took care of her siblings - something never considered by the agencies, the report found.
In 2009, Salford social services and other agencies were criticised after toddler Demi Leigh Mahon was murdered by a babysitter. In that case, social workers knew the family but a protection plan had not been set up.
Councillor John Merry, leader of Salford council, said: "This is a tragic case and our thoughts remain with this child's family.
"No-one could have predicted what happened to her when she visited her uncle that day, but we know more could have been done during her childhood to support her in coping with her unstable home life.
"However, even if this child has been removed from her home, she would not have been prevented from having contact with her family as there was no indication she was at risk from her uncle and therefore no reason to stop her having access to him and other members of the extended family.
"Removing her from her home would therefore not have prevented her death."
He said the authority had taken the review's recommendations "very seriously" and Ofsted had recognised improvements had been made.
"But I know we still have work to do and we are committed to continuing to improve the service we provide to protect children and young people living in Salford," he added.