Farnworth woman, 80, attacks burglar with mop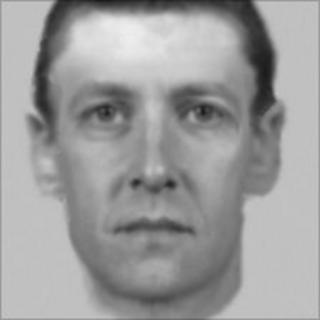 An 80-year-old woman tried to fight off a burglar with a mop after he barged his way into her home in Bolton.
The woman challenged the man when he called at her home on Church Road, Farnworth, claiming to be from next door - which she knew to be empty.
Police said she picked up a mop and struck him, but was pushed to the floor when he wrestled it from her grasp.
The attacker then stole a handbag and shopping bag before fleeing up Church Road, on Wednesday evening.
Greater Manchester Police (GMP) said the woman was injured in the fall and had been admitted to hospital because she was so shaken by her ordeal.
'Defenceless and vulnerable'
Officers have issued a computer-generated image of the thief, who is described as white, slim, with short dark hair and aged in his 40s.
Residents of the area are being urged to remain vigilant.
Officers are also investigating whether the robbery is linked to an attempted distraction burglary that took place on Lightwood Close, Farnworth, about an hour earlier.
In that incident a man tricked his way into another 80-year-old woman's house - but left when challenged.
Det Con Richard Barratt said: "Only a callous person would try and trick their way into the home of a defenceless, vulnerable woman just to get their hands on a measly amount of cash.
"The offender, whomever he is, needs to be caught and locked up for what he has done - this is the only peace of mind the woman can get and she deserves to see this man in jail."
Residents are being urged to check the identification of anyone who calls at their home.