Paedophile used library to download child abuse images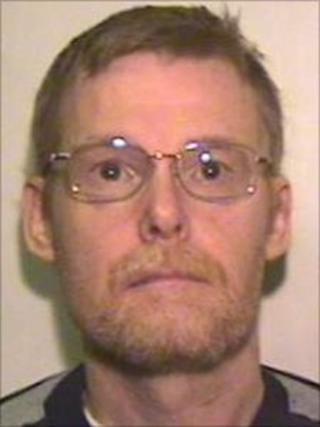 A convicted paedophile joined a library the day after he was released from jail and subsequently downloaded more than 250,000 indecent images of children.
Anthony Andrews, 49, admitted 25 offences and was jailed indefinitely, with a minimum term of 27 months, at Manchester Minshull Street Crown Court.
Previously known as Gary Salt, he was jailed for 12 years in 1998 for raping four children.
He shared images of the rapes with a network called the Wonderland Club.
Following his 1998 convictions, he gave evidence against other members of the network culminating in convictions of 150 paedophiles, police said.
Andrews was released on licence from jail in April 2006 but was recalled seven months later when evidence emerged he had bought IT magazines and had received discs from a convicted sex offender.
In January 2008, a database of sex offenders and literature outlining sexual encounters with children was found in his cell.
Children's section
He was released from jail on 16 April 2010 and on 17 April joined the Manchester library service. He later joined the library service in Trafford.
On 11 December, a member of the public at Old Trafford library reported seeing Andrews, of no fixed abode, looking at an indecent image and communicating online.
The computers were near the library's children's section, the court heard.
Police caught him at a library computer two days later.
They seized two computers and four memory sticks. They also discovered journals with lists of images, handwritten stories which included sexual fantasies of children, and encryption codes for computer files, police said.
Officers recovered 250,000 indecent images of children and dozens of videos of child sex abuse.
Officers also discovered a guide on how to groom and abuse children and how to survive prison and what to do when released.
Andrews admitted taking or permitting the use of indecent images with the intent to distribute them, possessing indecent images, attempted distribution of indecent images, possessing extreme child pornography and breaching a sexual offences prevention order.
Vast catalogue
Sentencing, Judge Peter Lakin told him: "You are clearly a committed and very active paedophile who is not willing or able to address your distorted behaviour."
Det Con Barry Conway, of Greater Manchester Police, said: "Andrews is a convicted sex offender who has shown no desire to rehabilitate.
"Despite serving his full prison sentence it did not take long for him to amass a vast catalogue of indecent images, including ones that show him carrying out appalling abuse.
"He has some sort of perverse status among other sex offenders and, in the sickening circles in which he moves, it is something he clearly relishes.
"Every indecent image recovered tells a story of harrowing abuse and we are dedicated to identifying and bringing to justice anyone involved in such offending, whether it is for the sharing of images or the abuse itself."