Great crested newts come early to Stockport ponds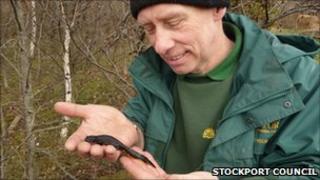 Countryside rangers in Stockport have announced the early arrival of great crested newts to a new set of ponds.
The ponds at Romiley's Chadkirk Country Estate were dug in October 2010 as part of nature charity Pond Conservation's Million Ponds Project.
Rangers had hoped the newt would come to the site eventually, but had not expected the species to arrive so soon.
Senior ranger John Rowland said the arrival was "a momentous occasion", as it showed the ponds were successful.
The aim at Chadkirk was to create freshwater ponds that would provide habitat for existing and new wildlife.
'Vulnerable species'
Mr Rowland said that the arrival of the great crested newt, along with other species such as the smooth newt and the palmate newt, showed that the work they had put in digging the ponds had been worthwhile.
He said the ponds had been dug in a specific way to encourage the population of amphibians, rather than fish.
"There's a cluster effect, which means the amphibians can colonise several different ones," he said.
"If you do one big one and end up with fish in it, that's no good, as fish and a wildlife pond don't really go together.
"Doing it this way, there's a chance some of the ponds are fish-free, which is better for the amphibians."
The site, which is only open to the public for guided visits, will now receive European Union protection, as the great crested newt is a European Protected Species.
Mr Rowland said that while it was a shame the area was mostly off limits to the people of Stockport, such a situation was imperative for the protection of the amphibians.
"Without places like Chadkirk, vulnerable species, such as the great crested newt, would gradually die out," he said.
"They are invaluable from a wildlife point of view."