Lancashire County Cricket Club want court bid halted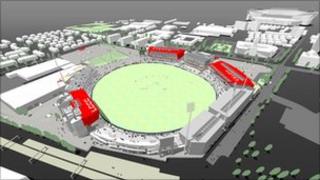 Lancashire County Cricket Club has called on a businessman to drop a legal challenge against its plans to redevelop its Old Trafford ground.
Albert Gubay's property firm Derwent Holdings, which owns the nearby White City Retail Park, is seeking to appeal against the redevelopment.
The High Court rejected its application in March for a judicial review of the planning permission.
The developer was given leave to take the case to the Court of Appeal.
Mr Gubay said the legal action would go ahead as planned.
The club has already begun the ground revamp to avoid losing a £5.2m grant from the former North West Development Agency.
'Pointless exercise'
A Tesco store will also be built nearby on Chester Road as part of the plans.
Mr Gubay has accused Trafford Council of double standards by allowing the store to be built as part of the club revamp plans but refusing his own application for Sainsburys at White City Retail Park.
Lancashire CCC Chief Executive Jim Cumbes said: "Mr Gubay's own plans for a rival food store at White City have been rejected by the planning authorities.
"His latest challenge seems a pointless exercise, but it is creating huge uncertainty for us due to its financial implications."
The cricket club is demolishing the F stand at Old Trafford as part of the plan to increase its capacity to 15,000 by the addition of two new grandstands.
Lancashire have argued that the upgrade is vital for Old Trafford to be chosen as a Test Match venue for the 2013 Ashes Series against Australia.