Fans' City taunt banner to return at Old Trafford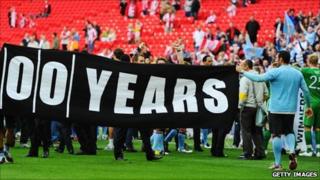 Manchester City's long-suffering fans waited 35 years to get the monkey off their back.
But, just when they thought it was all over, it's revealed that United's infamous "ticker banner" is to taunt them one final time.
Having mocked City's lack of silverware for more than a decade, the "35 years" banner disappeared following City's FA Cup win - much to the delight of Blues fans.
But Stretford End Flags, the independent supporters' group behind the banner, have said United fans will have the last laugh when it returns for the final game of the season.
Spokesman Andrew Kilduff said: "The banner's going back up in some form or another for the Blackpool game.
"What goes up is open to interpretation - it's going to be the same banner but it will just have something else on it," he said secretively.
"We've had suggestions to turn it to 43 which is how long since City last won the league.
"But if we do that it would just give City the motivation to win it again - and it would look a bit petty really."
'Screaming supporters'
Focus on the banner has grown since Manchester City's sale in 2008 to billionaire owner Sheikh Mansour and its move into the higher echelons of the Premier League.
Their manager Roberto Mancini was aware of its significance, urging his players to "take off this banner" in the build-up to the Wembley final.
At the final whistle, exultant City players even unfurled their own ticker banner on the Wembley pitch, reset to "00".
"It clearly struck a nerve," said Mr Kilduff, 35, from Runcorn.
"There were City fans outside Wembley screaming into the TV cameras, calling for it to come down.
"To me if you're in the FA Cup Final, you've won the cup. It's not about taking a banner down at a rival football ground."
But Kevin Parker, secretary of the Manchester City Supporters' Club, said: "Our obsession was, of course, winning that trophy, irrespective of this banner.
"I'm always a bit confused why Manchester United fans don't just concentrate on their own football team.
"If I was a United fan, I wouldn't be interested in City because, speaking as a City fan, I can honestly say that I'm not interested in Manchester United at all.
"So I don't know what their fixation with the banner is about, to be honest."
After a decade of winding up their Manchester rivals, are United fans disappointed the joke's over?
"To be honest, it didn't bother us because my focus was on Manchester United winning the 19th title," said Mr Kilduff.
"That's more important than anything because the rivalry with Liverpool [over the number of titles] was always bigger than that."
Museum piece
According to Mr Kilduff, the banner was conceived in the early 1990s by Manchester United's away fans who wanted to taunt City fans over their lack of success.
In 2000, a United fan had the first ticker banner made up which he displayed on the Stretford End before turning his back on the club in 2005 following the Glazer takeover - and taking his banner with him.
Soon after, Stretford End Flags was formed to create eye-catching banners and crowd mosaic displays at Old Trafford.
"We were inundated with fans' requests asking if it could go back up," he said. "So we actually got it remade and it's been up there ever since."
A mock-up of the banner was even taken to the City of Manchester stadium on 28 February this year - the 35th anniversary of City's League Cup win in 1976.
According to Mr Kilduff, the banner may now have a future in the new National Football Museum, due to open in Manchester in 2012.
"We've been in touch with them about using it in a display about football rivalry which is probably the right place for it now," he said.
"It's a tiny banner which is about a tenth of the size of banners we put up on the Stretford End.
"We've got huge banners of Ryan Giggs, George Best, Sir Matt Busby. And we're looking for ideas for a new banner to mark the 19th title.
"To be honest, that's what it's all about - the history and tradition of Manchester United.
"Now the ticker's gone, we can focus on that."