Peter Woolsey, 70, kayaks from Cumbria to London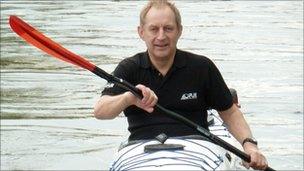 With interests ranging from canoeing to mono-skiing, Peter Woolsey says he does not consider himself "a stereotypical pensioner".
The 70-year-old, from Manchester, plans to kayak nearly 400 miles from Cumbria to London in just 16 days.
He will be retracing the journey he completed as a teenager 53 years ago.
Mr Woolsey said: "I don't know that I will do this trip in 16 days but I will have a damn good try."
Determined to achieve his personal goal he also hopes to highlight the importance of being active in old age.
"Seventy is kind of a watershed - if you don't use it, you lose it," he said.
With vivid memories of his first voyage aged 17, Mr Woolsey still remembers some of the delights such as the "phenomenal" view of Morecambe Bay, as well as the horrors he experienced during his travels.
"I remember travelling through a 2 mile tunnel with a cycle torch at six in the morning and I admit that I was frightened," he said.
"But the worst thing was hearing the sound of an engine when I was half way through, boy did I carry on quickly but no boat came by."
Despite the mixed memories, Mr Woolsey will travel again through the canal network in his 16ft (4.8m) fibre glass kayak through 173 locks and four tunnels.
Beating the odds has been a part of Mr Woolsey's life which is why he says he feels like an "ultimate survivor."
Born during an air raid in Trafford Park in 1941 he said: "My mother didn't know whether she would die in childbirth with me, or be blown to smithereens by the bombs.
"When you have a start like that, you learn that you are a survivor and you adopt that philosophy."
Although admitting the trip will be hard he remains optimistic.
He said: "If you ask me if I am frightened, I'm not, I'm simply concerned. I have a mobile phone and if I am really desperate I could ring a friend."
Mr Woolsey's interest in kayaking was sparked when he began studying canals at school, and before starting his trip he will visit his former school - Chorlton Park Junior.
"I believe I will be able to Kayak until my dying day," he said.
"And I would like to act as a catalyst to share some of the benefits that I have had from my life and education with others."
Mr Woolsey was leaving from Kendal in Cumbria on 28 May and hopes to arrive at London Bridge on 12 June.