Salford Lads' Club makes appeal for its 100th camp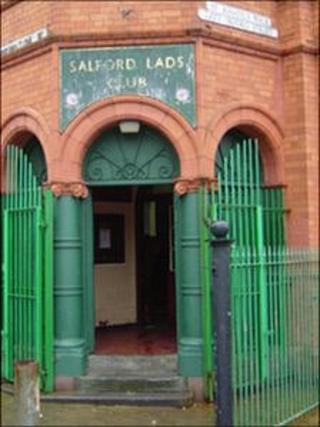 One of Greater Manchester's oldest youth clubs is appealing to former members to attend its 100th camp.
Salford Lads' Club was established in 1903 to provide activities for boys from working class families.
To mark its centenary trip, the club is trying to trace former members to visit its annual camp in Wales.
The club was made famous as the backdrop to an album sleeve by Manchester band, The Smiths.
When Salford Lads' Club opened over a century ago, it did so under a banner which read: "To brighten young lives and make good citizens".
Its first camp, in 1904, took 173 boys to Llandulas on what was, for many, their only holiday.
Now open to girls as well, Salford Lads' Club is open four nights a week laying on football, pool and table tennis as well as classes in boxing and kickboxing.
And, in keeping with tradition, the club is taking 40 youngsters to its 100th annual camp in Aberystwyth, beginning on Saturday.
Trustee Bill Seddon said a marquee would be erected on the football field with tents for boys and girls aged 10 years and upwards.
"It's not a scout camp - it's a holiday," said Mr Seddon.
"We play the local lads club at football, we do swimming, go-karting - you name it we do it."
This year, a special coach trip is being laid on to take up to 50 former members of the club to the site for the day - including an 81-year-old who has only missed three camps.
"It would be great if we can get people to go to the 100th camp," said Mr Seddon.
"We're hoping that there are some members out there who came on camps, in the 1950s or 1940s even, who would like to have one special day and that's going to be on Sunday."
Still going
At the turn of the last century, dozens of youth clubs were set up with a similar aim of reaching out to the poor of Manchester and Salford.
Salford's membership has fallen along with the decline of the industrial city to around 130 compared with 1,300 in its heyday,
But Mr Seddon said that, with up to 200 young people using the building each week, the club was still going strong.
"There were lots and lots of lads' clubs in Manchester beginning a long time ago and they've declined as communities have changed," he said.
"We're one of the last ones and the last one that still goes camping."
Former Salford Lads' Club members include Graham Nash of the Hollies, footballers Eddie Colman, Brian Doyle, Steve Fleet and Albert McPherson, and Salford Jets and radio presenter Mike Sweeney.
Any former members wishing to attend can email: info@salfordladsclub.org.uk or ring 0161 872 3767