Dylan Aaron pond death: Hindley man guilty of manslaughter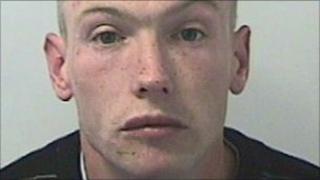 A man has been jailed for seven years for killing a teenage boy he had chased into a fishing pond in Wigan.
Dylan Aaron, 17, was pushed into Deep Pit pond in Hindley during a fight with Drew McGrail in May 2010.
Liverpool Crown Court heard how the 27-year-old stood on the bank and refused to let him out, shouting taunts as the teenager struggled in the water.
McGrail and his brother David, 35, were both cleared of murder, but the Drew McGrail was convicted of manslaughter.
The brothers, both of Lancaster Road, Hindley, had been on trial for about three weeks.
The court heard how Dylan had gone to the fishing pond looking for David McGrail, whom he believed to have vandalised his father's car.
He had earlier watched footage from a CCTV camera which showed one of the brothers throwing a large decorative stone through the windscreen.
The camera had been installed outside their home because of an ongoing dispute with the McGrail family.
The court heard that he found the pair fishing at the pond and a fight ensued, during which Dylan went into the deep water to escape.
He tried to swim across but got into difficulties and drowned.
Sentencing McGrail to seven years' imprisonment, the judge said he was guilty of a "wicked, cruel and vindictive act".
He said McGrail had "stood on the bank hurling abuse at Dylan", who was "so frightened that he did not want to come out of the water".
McGrail's actions "deprived Dylan of his life - a 17-year-old with so much to offer", he added.
Speaking after the hearing Vinny Chadwick, of Greater Manchester Police, said Dylan's death was "tragic".
"Dylan's death was easily avoidable had he been simply allowed to get out of the water," he said.