Oldham riots progress 'under threat' from cuts
By Richard Turner
BBC News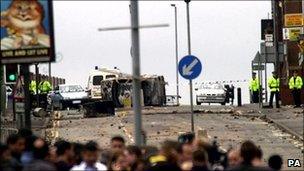 Ten years on from the Oldham riots, the man charged with bridging Britain's racial divide has warned government cuts could undo much of the progress made in the town.
In May 2001, tensions between white and Asian youths erupted into the worst race riots seen in England in a generation.
Professor Ted Cantle was commissioned by the then Home Secretary David Blunkett to lead a review of the causes of disturbances across a number of northern towns and cities.
In his report, Mr Cantle, who had spent decades working in local government and is now executive chairman of the Institute of Community Cohesion, highlighted deep-rooted segregation with ethnic groups leading "parallel lives".
A decade later, he says good work has been done in Oldham to address the problem. But he fears the progress could be undermined by cuts in council funding.
"The expenditure cuts really are a threat to community cohesion," said Mr Cantle.
Leading anti-racism project PeaceMaker was highly commended in the wake of the riots for its work in helping to break down barriers in the town.
The group was formed in 1997 by a group of young British Asians who were concerned by the town's slide into segregation. But it folded in April, citing funding cuts.
Robina Kauser, a community development worker at the Coppice Neighbourhood Project in Werneth, said the area had seen a huge improvement in race relations.
"We took 30 ladies from different backgrounds to Llandudno beach for the day and it was wonderful," she said.
"The ladies were saying to each other 'We didn't know you people were so friendly'."
But Robina also said Oldham's youth clubs - being used by both white and Asian teenagers - were now being hit by funding cuts.
Mr Cantle said: "It's the voluntary agencies that often do help to bring communities together.
"The government does need to see this work as a priority if we are to avoid similar difficulties in the future."
It's a stark warning from the man who, better than most, understands the steps Oldham has taken since the ugly explosion of violence 10 years ago.
On the night of 26 May 2001, a gang of youths pelted the Live and Let Live pub with stones and petrol bombs in an escalation of violence that followed tit-for-tat exchanges between white and Asian groups.
Cars were torched in the Glodwick area and hundreds of youths ran pitched battles with police.
Violence raged for three nights over the Bank Holiday weekend leaving 20 people injured, including 15 police officers.
Riaz Ahmad and his family were among those who narrowly escaped injury when their home was petrol bombed in the days that followed.
Then deputy mayor of Oldham, Mr Ahmad said he believed it was newspaper reports of "no-go" areas and the actions of far-right groups that triggered the unrest.
"Nothing could have prepared me for what I was witnessing - hundreds and hundreds of youths fighting pitched battles with the police," he said.
"And it was a feeling, not just of shock, but of helplessness as well.
"I was seeing my town being destroyed in front of my eyes and I was gutted."
This dark chapter for the town may be in the relatively recent past but Mr Ahmad said Oldham was a much more tolerant place 10 years on.
"I have noticed a change in the mindset," he said.
"And it's this change that gives me confidence that it will not, should not, happen again in Oldham."
Mr Cantle agreed: "Although you can never say never, the risk has been reduced."
He added that "there was still a long way to go" before the matter of different ethnic communities living parallel lives was fully addressed.
"Oldham has shown probably more innovation in the way that it's attempted to bring schools together, even to the point of merging different schools.
"Structural segregation is very difficult to break down - it will take time. And there is still poverty and inequality and there are still some tensions.
"But I think there is a good deal more civic leadership than there was."
Related Internet Links
The BBC is not responsible for the content of external sites.