Bolton robot Arthur in stage debut at Octagon Theatre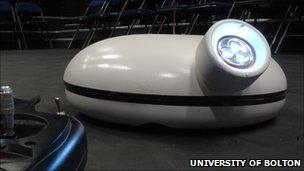 A University of Bolton robot has joined the cast of a play in the town.
The machine, named Arthur, was created after the Octagon Theatre asked students to help them fill a role in David Lodge's Secret Thoughts.
In the play, a robot enters and scans a room. The producers were keen to make the scene as realistic as possible.
Production manager Oliver Seviour said the theatre asked for help after realising the building of robot "was a bit beyond our reach".
The robot was designed by first year Special Effects student, Laura Durham, who took part in a department competition to earn the right to come up with the blueprint.
She said that while she had designed Arthur, the production of the machine was much more of a team effort in order to overcome technical difficulties.
"The build was quite complex and we had our fair share of problems along the way," she said.
"I was quite involved in building the shell of the model and making a few decisions during the build process, but I have to give a lot of the credit to the team as well, it was a joint effort."
Mr Seviour said the theatre was very pleased with Arthur.
"After a two-week build period, a fully functioning robot was delivered - it met the design brief and very closely resembled the original concept design by Laura," he said.
"This project has been a great success for the Octagon - and for the university, it has given the students a real project, with real deadlines and a strict brief.
"We are already planning how the Octagon and the university may work to together again soon."
Related Internet Links
The BBC is not responsible for the content of external sites.