Nazi uniforms banned at Lancashire Railway WWII event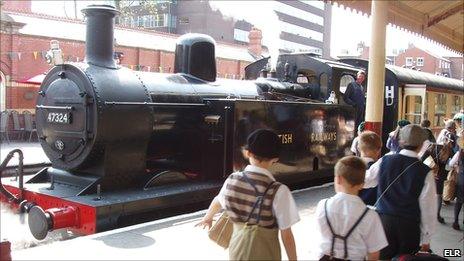 Railway bosses have banned World War II re-enactors from wearing Nazi regalia during a 1940s wartime weekend.
About 10,000 people are expected at the East Lancashire Railway (ELR) event in Bury, Greater Manchester this weekend.
With a large Jewish population in the borough, organisers have said they do not want to cause offence to any visitors or local residents.
Anyone wearing a German or Axis officer uniform to the event will be asked to leave, a spokeswoman said.
Previous events have attracted bad publicity for a "small handful" of people turning up in German or Axis officer uniforms, a railway spokeswoman said.
"There is a large Jewish community on our doorstep in Prestwich, so obviously there was concerns raised about seeing people dressed up in German officers' uniforms," she added.
"Clearly we don't wish to offend anyone so this year we have taken quite a clear stance towards that and are saying all wearing or German officer or Axis uniforms are banned.
"That doesn't mean you cant come dressed up and obviously a normal soldier's uniform is fine.
"It's the officers showing the swastika or the SS insignia that is really what we don't want to see."
The spokeswoman said the decision followed representations from the Jewish community in the area.
No-one from the Jewish Representative Council of Greater Manchester could be reached for comment.
The award-winning event is now in its 13th year and attracts visitors and WWII history enthusiasts from across the north west.
The three-day programme, which starts on Saturday, covers the full 12-mile line from Bury to Heywood and Rawtenstall and includes live battle re-enactments, an authentic military camp, 1940s fashion stalls, afternoon tea dances and musicians.
Related Internet Links
The BBC is not responsible for the content of external sites.