Oldham father and son taxi drug barons jailed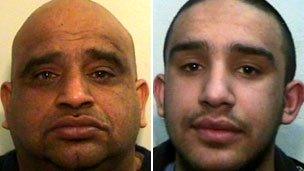 A father and son team of gangsters who used taxi drivers to distribute millions of pounds worth of heroin, cocaine and cannabis have been jailed.
Fazal Hussain, 43, and son Faisal, 20, both of Cranbrook Street, Oldham, were given nine years 11 months and eight years four months respectively.
The men admitted several counts at Manchester Crown Court of supplying drugs and possessing criminal property.
Seven other gang members got sentences ranging from 15 months to seven years.
Police surveillance operations led to several taxis being found with significant quantities of drugs on their way to different locations.
On five different occasions between March and August 2009 police either observed or stopped taxis carrying cocaine, heroin and cannabis in locations such as Birmingham, Bristol and Manchester.
The Hussains tried to distance themselves from the operation using pay-as-you-go mobile phones but an analysis of mobile phone traffic proved they headed the group.
Fingerprint evidence also connected Faisal Hussain to a package of cannabis and the boot lid of one car stopped by police.
Fazal Hussain, known locally as "The Godfather", admitted at an earlier hearing conspiracy to supply cocaine, two counts of supplying heroin and using criminal property.
His son also admitted at an earlier hearing possession of cannabis with intent to supply, conspiracy to supply cocaine, two counts of conspiracy to supply heroin, two counts of possession of criminal property and conspiracy to supply cannabis.
Five gang members were convicted of supplying drugs. They were:
Afraq Ahmed, 31, of Grendon Avenue, Oldham, was jailed for seven years for supplying heroin
Ali Shan, 32, of Gainsborough Avenue, Oldham, got six years for supplying cocaine
Yasir Mahmood, 25, of Brompton Street, Oldham, also got six years for supplying heroin
Michael West, 21, of Gordons Avenue, Oldham, was sentenced to three-and-a-half years for supplying heroin
Habibur Rehman, 36, of Arborfield Clouse, Slough, received two years for conspiracy to supply cannabis.
Two others from Oldham also pleaded guilty to supplying drugs. Javid Iqbal, 41, of Glen Road, received five-and-a-half years for supplying heroin while Arfan Zahid, 27, of Ronald Street, was jailed for 15 months for supplying cannabis.
Police said the father and son team had controlled a drugs network of taxi drivers and couriers who collected and distributed drugs throughout Oldham and the UK.
A photograph of Faisal Hussain found on a mobile phone seized by police showed him posing beside a leased Lamborghini sports car - seen as a status symbol among drugs dealers and a sign of how lucrative their operation had become.
Hussain senior came out of prison in 2009 after serving half of a six-year sentence for drugs supply and began another supply racket soon after.
Officers seized 7kg (15.43lb) of heroin with a street value of £700,000, a 1kg (2.2lb) bag of cocaine with a street value of nearly £600,000 and 15kg (33.06lb) of cannabis valued at £150,000.
Related Internet Links
The BBC is not responsible for the content of external sites.