Dawn Makin: Bury patients warned over NHS data breach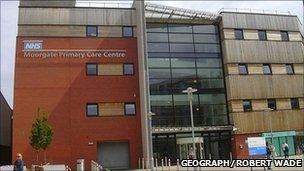 The details of 189 NHS walk-in centre patients could have been leaked as part of a data breach linked to a worker whose daughter was recently killed.
NHS Bury has written to the patients to warn them their records could have been passed on to third parties.
The source was said to be Dawn Makin, 33, who was found unconscious beside the body of her daughter, Chloe, four.
The Information Commissioners' Office (ICO) is now taking legal action against the alleged recipient.
No action is being taken against Ms Makin, who remains in hospital three months on from the killing, because it was not considered to be in the public interest.
Her daughter was found dead at her home on Lea Mount Drive, Bury, on 17 February.
A post-mortem examination showed she died from multiple stab wounds.
The inquiry into the confidential data breach centred on people visiting Prestwich or Moorgate Primary Care Centre over four-months in 2010.
An NHS investigation found that some patient records were "inappropriately accessed and their contact details passed to a third party".
John Boyington, NHS Bury's managing director, said: "We take our responsibilities in respecting the security and confidentiality of information very seriously and we will always investigate and take appropriate action.
"I would like to apologise to those patients whose records have been inappropriately accessed for any distress this incident may have caused."
The ICO has not revealed the identity of the person it is taking legal action against.
A spokesman said a summons had been issued to an individual to attend a hearing at Bury Magistrates Court on Wednesday.
He added: "The case concerns alleged offences under section 55 of the Data Protection Act, and relates to unlawfully obtaining patient information from NHS Bury."
Related Internet Links
The BBC is not responsible for the content of external sites.