Hale suspect car crash officers await internal inquiry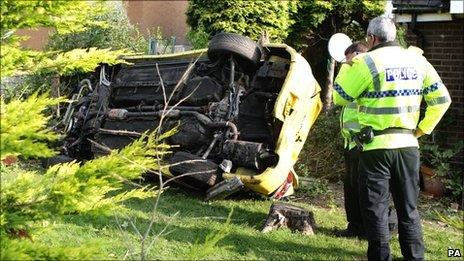 A police officer fined £135 for crashing a high-performance car seized from a drink-driver remains at the centre of an internal force inquiry.
Pc Mark Colebrook, from Widnes, drove a Mitsubishi Lancer which careered into the gardens of two houses in Hale, Greater Manchester, in September 2010.
The 30-year-old and his colleague, Pc Stuart Foy, initially faced charges of aggravated vehicle taking.
But those charges were dropped after Pc Colebrook admitted careless driving.
As well as the fine, the officer had his driving licence endorsed with four penalty points and was ordered to pay £200 costs.
The Crown Prosecution Service (CPS) decided not to pursue the other charges against the pair, who both work for Greater Manchester Police (GMP).
Both officers are still awaiting the results of an internal inquiry into the incident.
"The two officers concerned remain on restricted duties pending the outcome of an assessment by the GMP Professional Standards Branch that will determine whether or not they will face internal disciplinary action," said a force spokesman.
The officers had stopped the vehicle after watching it being driven erratically on Hale Road at about 0215 BST on 3 September.
Both were later found inside the car after overturned at the junction of Hale Road and Rydal Drive in the early hours of 3 September.
Related Internet Links
The BBC is not responsible for the content of external sites.