Bolton ear-biting attack: image of man wanted by police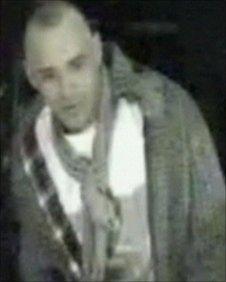 Police have released an image of a man they want to speak to after a man had part of his ear bitten off in a fight outside a nightclub in Bolton.
Trouble flared inside J2 in the town in the early hours of 6 February, and spilled out onto the street.
A man sank his teeth into a 21-year-old's left ear and ripped part of it away, severing it completely.
Images taken from CCTV footage show a man police want to speak to in connection with the incident.
Witnesses saw the man with blood coming from his mouth before he ran off with his friends towards Nelson Square.
The victim was taken to Wythenshawe Hospital for plastic surgery. Police found the severed part of his ear but it could not be reattached and the man has since had to have a further part of his ear cut away.
Det Con Stuart Round from Bolton CID said: "A 21-year-old lad has gone to enjoy a night out with his friends and has ended up being viciously assaulted and left permanently disfigured as a result.
"The images we have released of the man we believe is responsible are of a good quality and we are hopeful that someone will recognise him. If you do, then please get in touch with us as soon as possible.
"We are determined to catch the man that is responsible and put him behind bars for what he has done to his victim."
The man's family said the attack had left him traumatised.
They said: "This was a particularly vicious attack with devastating results. The perpetrator must have serious anger management issues and whilst his apprehension will not help our son in anyway, it could prevent him from harming someone else.
"Our son is an ordinary young man who did not go looking for trouble that night. However, trouble found him and he is left to deal with the consequences."
Related Internet Links
The BBC is not responsible for the content of external sites.