Edale House patient found dead 'not checked for hours'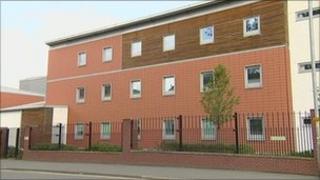 A patient who died outside a hospital ward after nurses refused to let him in was not checked by staff for 10 hours, an inquest into his death has heard.
Peter Thompson, 41, was not allowed into the mental health unit on Hathersage Road, on 3 April last year as he had a bottle of vodka.
He was told to stay by the entrance, where he was found dead the next day.
A nursing assistant told the inquest she had only looked at him through a glass panel in a door.
Maria Opara, who worked at the Edale House unit, told jurors at Manchester Crown Court she and colleagues had been told to check on Mr Thompson every half hour.
Shouted name
She said she had only observed him through a glass panel door, even though he had stayed in the same position all night.
At 0600 BST the next day, she went out and shouted his name but he did not respond.
Ms Opara said she called her staff nurse who, along with the night manager, tried to find a pulse before moving the body.
Mr Thompson, of Gorton, had a long history of drink and drug abuse, and had been addicted to crack cocaine and heroin.
In February 2010, his condition deteriorated and he was admitted to Edale House as a voluntary patient.
The unit, which treats about 80 patients, has a policy of not allowing alcohol or drugs onto the ward.
The inquest continues.