Trafford barn to store Greater Manchester's winter salt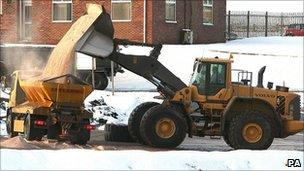 A huge salt barn, which will hold winter reserves for the whole of Greater Manchester, is being built in Trafford.
The building, at the council depot at Carrington, will house 4,500 tonnes of salt, a third of which will make up a "contingency reserve" for the area.
Trafford Council's Alan Mitchell said it would "more than double capacity".
The barn, which will cost £250,000 to complete, is being paid for by all 10 of Greater Manchester's councils.
The majority of the salt stored in the building will come from Winsford Rock Salt Mine, which lies 20 miles south of it.
Mr Mitchell said that the barn had become necessary because of the amount of salt required to "keep traffic flowing" in the winter months.
"Historically, 1,500 to 2,000 tonnes of salt would see us through an entire winter - and, of course, the salt mines continue to deliver all winter, so we have a continuing supply.
"In the last couple of years, we went up to 2,500 and then to over 3,000 tonnes usage on our roads, just to keep the traffic flowing."
The barn will house 3,000 tonnes of salt for use by Trafford Council, alongside 150 tonnes of emergency reserve salt for each of the 10 local authorities in Greater Manchester.
The councillor said that the cost of building of the barn, coupled with the purchase of salt to fill it, was large, but it was something which all the councils had to pay for following the problems with salt shortages in the winter of 2010.
"It's a huge capital investment in salt alone, as well as the barn, because you have to replenish all the time," he said.
"But the cost of keeping our roads clear in winter is going up, because the winters are getting worse.
"Knowing next winter we will have a full salt barn before the worse weather hits gives us and our neighbours extra resilience, and local people the reassurance the road networks will be treated whenever the weather dictates."
Related Internet Links
The BBC is not responsible for the content of external sites.