Manchester Royal Infirmary routinely offering HIV tests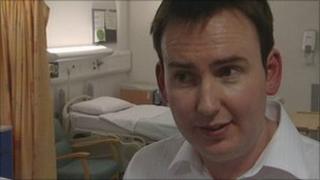 Patients being admitted to Manchester Royal Infirmary are being routinely offered HIV screening as part of a new policy to boost detection rates.
It means any adult admitted to the medical assessment unit - about 1,000 people every month - will be asked if they are happy to have the test.
Officials have introduced the policy because of Manchester's relatively high HIV rate - 4.47 people in every 1,000.
Doctors said diagnosing the virus early could ensure a normal life expectancy.
Health Protection Agency (HPA) data shows new UK-acquired cases rose from just under 2,000 in 2001 to nearly 3,800 in 2010.
According to HPA figures, more than twice as many people were diagnosed with the virus in Greater Manchester in 2010 than in Cheshire and Merseyside - almost five times as many as in Cumbria and Lancashire.
Darren Cousins, specialist registrar at Manchester Centre for Sexual Health, said the policy was about "normalising" the test and making it as easy as possible.
'Early treatment'
"By making the test as normal as possible alongside other medical investigations, what we're trying to do is reduce the stigma overall," he said.
"We are not making it that we're choosing particular groups over other groups and we're saying it's a general good health measure to actually have an HIV test."
He added: "HIV is a disease where if you pick it up early then you don't need to die from it. If you are diagnosed pretty late that might well be what happens.
"By picking it up early we can offer people treatment early and make sure they have a normal life expectancy."
The National Institute for Health and Clinical Excellence (NICE) in March launched new guidelines for doctors in England.
It said GPs and hospital doctors should offer and recommend HIV testing to all men in an area that has a high prevalence of HIV - meaning more than two diagnosed cases per 1,000 people.
The hospital said the HIV test cost less than £1 and the results were obtained within 48 hours.
Officials hope to pilot the test on the surgical ward next and, within the next few years, offer the test to every patient who comes to the hospital.