Corridor death: Peter Thompson 'not checked' for 10 hours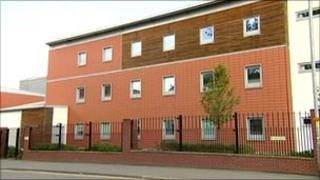 The death of a mental health patient who was left in a corridor for at least 10 hours could have been avoided, an inquest has ruled.
Peter Thompson, 41, was left outside a ward in Edale House, Manchester, after he was found with a bottle of vodka.
The inquest at Manchester Crown Court heard staff failed to check if Mr Thompson was breathing.
The jury returned a verdict of death by misadventure, contributed to by neglect.
Coroner Nigel Meadows said the death could have been avoided.
He said the evidence "gave great cause for concern" and that he would be writing to the Manchester Mental Health and Social Care Trust.
Jurors were shown CCTV footage of staff moving Mr Thompson's body away from the ward doors before paramedics arrived.
Speaking after the hearing, Mr Thompson's father, Alan, told the BBC he was "very satisfied" with the verdict.
Alcohol abuse
"I feel as if people will be awakened by what the verdict was and hopefully it will do a bit of good for other families who go through what we've been through," said Mr Thompson.
"I don't know the words to say but I'm just glad the verdict fits what we expected."
The inquest heard how, in April 2010, Mr Thompson had not been allowed in the unit because he had a vodka bottle.
He was told to stay by the entrance, where he was found dead the next day.
Mr Thompson, of Gorton, had a long history of alcohol abuse and had been addicted to crack cocaine and heroin.
The unit, at Manchester Royal Infirmary, which treats about 80 patients, has a policy of not allowing alcohol or drugs on to the ward.
Two members of staff were sacked by the trust and a third was disciplined.
In a statement, the trust apologised and said it wanted to "express deep regret" about the circumstances of Mr Thompson's death.
"This was an isolated incident and does not reflect the high levels of care and dignity with which we treat our service users," said a spokesperson.
"On this occasion we fell short of our usual high standard and we are very sorry about this."
A Serious and Untoward Incident review was carried out by the trust and action was taken against the staff involved.