Stockport hospital 'failing to meet nutritional standards'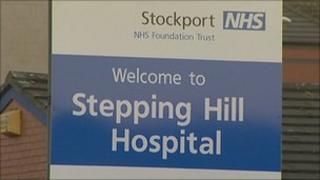 A Greater Manchester hospital has been criticised for feeding some elderly patients in a "chaotic, noisy and disorganised environment".
The Care Quality Commission (CQC) went to Stepping Hill Hospital, Stockport, as part of an England-wide assessment of how well older patients are treated.
Although patients felt they were treated with respect, inspectors had concerns about their nutritional needs.
Stockport NHS Trust said it had taken action to address the concerns.
CQC inspectors visited two wards at Stepping Hill as part of a programme to assess how well older people were treated in hospital and whether their nutritional needs were met.
No drinks
The majority of the patients they spoke to felt they were treated with respect and dignity and praised staff.
Most patients were also happy with the food provided but inspectors found "marked differences" between the two wards they visited.
One ward had a "calm and quiet atmosphere" during meal times, while the other was "chaotic, noisy and disorganised", the report said.
Inspectors expressed "moderate concern" after finding that one patient lost 5.7kg (12lbs) in 17 days and another was left without a drink for several hours.
They also highlighted concerns about nutritional record keeping and a lack of support for patients to consume fluids.
The CQC concluded that the hospital did not meet essential standards of quality in meeting nutritional needs and has ordered improvements.
In a statement, Judith Morris, director of midwifery and nursing, pointed out that one of the wards was a "busy stroke unit".
"It was disappointing that there was evidence that some patients might not have received all the support they needed to consume fluids and that the standard of some of the documentation of the nutritional needs of patients was not as high as we would have expected them to have been," she said.
"The Trust has already introduced measures to further meet the nutritional needs of patients and will be complying with the recommendations of the Care Quality Commission.
"We remain committed to ensuring that patients receive the highest standard of care and an excellent experience whilst under our care."