Man bailed over Wythenshawe shooting death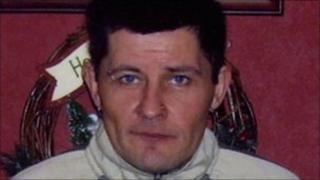 A 32-year-old man arrested on suspicion of murdering a man who was shot dead in a parked car in south Manchester has been released on bail.
Ian Taylor, 44, was a passenger in a red Citroen on Floatshall Road in Baguley, Wythenshawe, on Monday night when the shots were fired.
He was in an argument with a group of boys on the day he was killed. Police said they want to speak to them.
They also want to speak to anyone who saw the gunman flee the scene.
Police said he was wearing dark clothing and possibly a balaclava, and fled along a road opposite Floatshall Road.
Officers also want to speak to some girls who were seen speaking to Mr Taylor in the days leading up to his death, while he was working on the Citroen.
'Family needs answers'
Det Supt Julian Ross, of Greater Manchester Police, said: "We are actively pursuing a number of lines of inquiry following Ian's death.
"Because of that, I do not want to be drawn into what the motive for killing Ian might have been because until all those lines of inquiry have been fully investigated, we cannot say for certain what the motive was and to speculate would not be helpful."
He said officers were trying to build as full a picture as possible about the days and hours leading up to Mr Taylor's death.
He said: "We believe that Ian had been working on the Citroen over the last few days and had been playing his music quite loudly which had attracted attention.
"And we know that in the days leading up to his death, and on the day itself, Ian had been talking to a group of girls and then later another group of boys, although it is not clear exactly what was said or what happened.
"Clearly they could be vital witnesses so I would appeal to anyone who saw Ian speaking to any of these people, or the individuals themselves, to come forward.
"If you were one of these people, then we really need to speak to you because you could be key to helping us give Ian's family the answers they need."