Roller derby makes a play for Manchester sport fans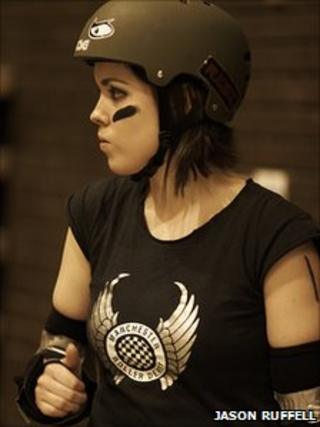 Manchester is awash with top class sport, from football and cricket to cycling and swimming.
Yet, despite so many events for spectators to choose from, a very American pastime is starting to find its niche in the area.
The sport of roller derby has been taken to heart by a growing number of players and spectators in the city.
According to Steph O'Connor, a member of the all-female Manchester Roller Derby team, the supporter appeal is simple.
"What other sport involving girls hitting each other on skates would you be able to watch?"
Roller derby in the UK has been growing steadily in recent years and, while there is no official league, matches are arranged between teams on a regular basis.
The game received a boost in interest when Whip It, a film comedy about the sport in America, was released in 2009.
For the 25 year old, the initial inspiration to get involved came from a different source, though she does admit the film was involved in getting her to actually take part.
"A friend who skates with Central City Rollers in Birmingham would not stop going on about it," she says.
"I'd never heard of it before, and couldn't quite understand what was so appealing about bruises and sweating profusely.
"Trying to put my finger on it, I Googled Manchester Roller Derby and decided to have a go - but not before getting a friend to watch Whip It, so that I had someone to take with me."
'Kate Push'
She says she was instantly hooked and soon part of the team, complete with the one thing all roller derby players need - a nickname.
Ms O'Connor is "Kate Push" on the track, a name chosen because she likes "musicians that some probably consider a teeny bit mental, like Kate Bush and Bjork - plus I wanted something short and snappy that people could actually hear when it's announced".
She says she was nervous about taking part in bouts - meetings where two or more teams compete in matches, during which teams skate in an oval and pass and block opponents to score points - but that the experience turned out to be fun and not as dangerous as she had imagined.
In fact, despite the aggressive nature of the sport, she says she has had very few injuries.
"I've been relatively lucky so far, touch wood - nothing more than a few bruises and muscle pulls.
"It is a full-contact sport and there are injuries, but I suppose if all we did was think about what might happen, we'd do nothing at all."
'Unique atmosphere'
The last bout in Manchester saw a sell-out crowd watch the "Wonderbrawl" in February - a two match event featuring teams from West Yorkshire, Birmingham and Cardiff alongside Manchester - at one of the city's larger music venues, Academy 1.
Ms O'Connor says that as exhilarating as she thinks the matches are for both those competing and those watching, she's unsure exactly what makes them so special.
"The bouts just have an unique atmosphere to them, it's difficult to pinpoint - everyone gets really into it, and the audience is an integral part of that," she says.
"People have to see it and experience it for themselves, I guess.
"Plus, what other sport involving girls hitting each other on skates would you be able to watch?"
Spurred on by the sell-out, Ms O'Connor says Manchester is coming round to the sport "slowly but surely and soon we'll have the whole city".
"Someone turned up to our last game with MRD shaved into her hair," she says.
"My dad's a huge football fan and he loved our last game - he even bought a T-shirt."
A Midsummer Night's Scream, featuring Manchester Roller Derby and Birmingham's Central City Rollers, takes place at Academy 1 in Manchester on Sunday 19 June 2011