Stalybridge factory odour cause investigation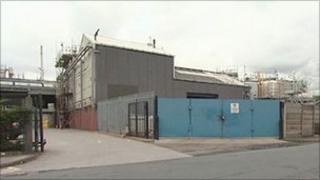 Investigations are under way to try to discover a way of preventing odours from a detergents factory from spreading into neighbouring homes.
The Stepan UK factory in Stalybridge, said it was working with United Utilities and Tameside Council to stop the smell spreading through drains.
A strong chemical odour is being experienced by people living near the factory on Bridge Street.
The firm said that lining nearby sewers could provide a solution.
The council said that the Health Protection Agency had been asked to give advice on the health effects of the odours, which have arisen out of the chemical process of making cleaning products.
'Rapid solution'
Councillor John Taylor, a Dukinfield ward councillor who lives close to the affected area said: "I was aware of this problem when I was first elected to Tameside Council in 1984 and it has unfortunately re-occurred.
"I live in the neighbourhood and fully appreciate this is a serious problem for residents and businesses and we are working with all the various agencies and the company concerned to resolve it urgently."
Stepan UK said it had performed checks on two sewers adjacent to the factory and had flushed them and sent cameras down them to try to locate the cause of the smell.
It said the sewers were unlined and that it planned to line them to discover whether that would prevent the odour from spreading.
Gareth Howgill, Stepan UK site manager says: "We will continue to work with our neighbours to resolve any concerns they may have related to this issue.
"We are working with United Utilities, the company responsible for the local sewer network, Tameside Council and other agencies to achieve a rapid solution."
Councillor Catherine Piddington, Tameside Council's executive member for environmental services, said: "Stepan has assured us that they want a contractor dealing with this as soon as possible.
"We will keep in touch with Stepan and United Utilities to ensure progress in resolving the matter is maintained."