Moors Murder victim's brother's body find hopes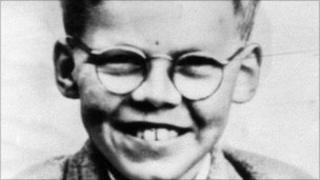 The brother of Moors Murder victim Keith Bennett said he hopes a new book will give fresh impetus to find his brother's body.
Keith Bennett, 12, was snatched in 1964 in Longsight, Manchester, by Ian Brady and his accomplice Myra Hindley and murdered by them on Saddleworth Moor.
Alan Bennett claims the book, by David Smith, a witness to one murder, confirms a location of the body.
Brady, who admitted Keith's murder, has never revealed where he buried the boy.
Speaking on the 47th anniversary of his brother's disappearance Mr Bennett, 56, said: "We believe Keith is in a certain area on the moors and both Brady and Hindley who made two visits to the moor picked out that area."
He added: "David Smith has written a book and he has confirmed that this is an area he went with Brady and Hindley as well."
It was Mr Smith, Hindley's brother-in-law, who reported Brady and Hindley to the police after witnessing the murder of Edward Evans in the couple's house.
Snow covered
"Where we believe Keith is buried there are certain landmarks and David Smith remembers them," said Mr Bennett.
"The shocking thing is that the police never took him [David Smith] there - they took him to the moor but they never went to the area where Keith could be buried.
"The last time they went it was covered in snow and they just took him to the side of the road - Keith's about a quarter of a mile into the moor."
Greater Manchester Police said it would not be commenting on the claims.
Fresh evidence
In 1987, after Brady and Hindley admitted killing Keith and 16-year-old Pauline Reade from Crumpsall, they were taken back to Saddleworth Moor by detectives to find the bodies but only Pauline's remains were found.
Police abandoned the hunt in 2009 and the investigation is now classed as "dormant", with only a major scientific breakthrough or significant piece of fresh evidence able to prompt a new search.
Brady and Hindley also killed John Kilbride, 12, and Lesley Ann Downey, 10, as well as Edward Evans, 17.
Hindley died in prison in November 2002, aged 60.
Brady is a prisoner in Ashworth Hospital, the high security psychiatric unit in Maghull, Merseyside.