Woodford Aerodrome site proposals go on display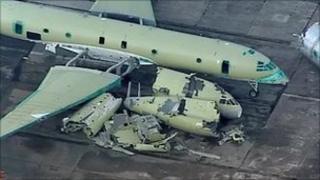 Proposals for the future of Stockport's Woodford Aerodrome are being presented to local people.
The site owned by BAE Systems is to close in March 2012 with the loss of 200 remaining jobs, after defence cuts forced the scrapping of Nimrod.
Ideas and plans for the future use of the 500-acre site have been created during a series of public workshops put on by local councils.
The proposals are on display at Woodford Community Centre.
Stockport Council and Cheshire East Council said the plans would be incorporated into a supplementary planning document which after more public feedback would form the basis of a planning application.
'Valuable information'
Councillor Mark Wheldon, executive member for communities at Stockport Council, said: "I'd like to thank everyone who has taken part in BAE's public exhibition and our design workshops so far.
"We are getting very valuable information to help shape the redevelopment process, which we will feed back to residents in due course."
Cheshire East Council cabinet member Jamie Macrae said: "I would urge local residents to come along to the presentation on the outcome of the design workshops, as these findings will help to inform proposals for the site's future.
"I would like to thank local people for their involvement to date. Woodford Aerodrome is a key development site spanning both Cheshire East and Stockport borough council areas and it is vital that we take on board the views of local residents to help shape planning proposals."
The councils said that about 103 acres of the site had the potential to be developed.
Work on the scrapping of the multimillion-pound Nimrod aircraft was carried out at the start of 2011.
The project was abandoned by the government in the Strategic Defence and Security Review (SDSR) and is claimed to save the Ministry of Defence an estimated £2bn over the next decade.