Johnny Vegas opens shopping channel play in Manchester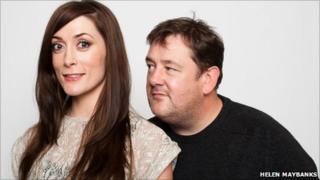 "He was drinking tea, but there was no monkey. Where's the monkey?"
Before this play, Johnny Vegas may have thought he was destined to forever be remembered as the PG Tips 'monk-eh' man.
But those who witnessed the opening night of And Another Thing... will probably remember the comedian for squeezing himself into some Bridget Jones-style control underwear.
The play follows the trials and tribulations of fictional shopping channel presenters Bryan Chadwick and Lindsay Gibson, played by Vegas and co-star Emma Fryer.
"It's about things breaking down in their lives but how they can hold it together when they are selling," said Vegas.
Holding the whole thing together is their floor manager Andy, played by Kevin Eldon.
Parts of the Manchester International Festival (MIF) show are broadcast live on TV as Johnny Vegas teams up with shopping channel Ideal World.
Incredibly convincing
The live element is something that the St Helens comedian handled really well, according to Sally Jacks of Bid Up TV.
"I thought Johnny Vegas was particularly good whilst live on Ideal TV, I actually think he could be a really good shopping channel presenter."
"If I'd have been there with my colleagues we would have been wetting ourselves."
The presenter said she thought the show would really turn people on to "selly telly".
"I can guarantee anybody who's never watched shopping television before will be straight home and flicking through the channels," she added.
The audience gets to see both sides of the characters and how their off-air and live personas differ.
Ideal World's live audience gets the unexpected and unpredictable experience of Vegas and Fryer selling a range of items.
'Laugh-a-minute'
John Robb, lead singer of Manchester based Goldblade, felt Vegas' alter-ego was "incredibly convincing".
"If you were watching Ideal World and they popped up on it, would you be thinking 'What's Johnny Vegas doing on the shopping channel?'
"But he actually looked different enough from Johnny Vegas for you not to think that."
The show has come at a time when shopping channels have been the particular focus of celebrity news.
Both Ronan Keating and Peter Andre have appeared on QVC, trying to promote their new singles, before performing them live on air.
Like those appearances, the play also got a strong reaction.
One person in the audience described it as "a laugh-a-minute" while another was disappointed.
"I came expecting great things because it's Johnny, but it's absolute rubbish."
Mr Robb felt Emma Fryer almost stole the show: "The performances were really good, Emma's particularly. She almost upstaged Johnny, which takes some doing. She was so deadpan and just... weird."
However, just like the tea Johnny was drinking (without Monkey), it was not to everyone's taste.
And Another Thing... is showing at the Pavilion Theatre from 11-17 July at 21:30 BST.