Liverpool fans 'ripped off' by 90p booking fee for tickets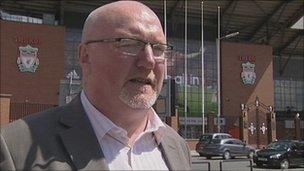 Liverpool Football Club is "ripping off" fans by charging an extra 90p fee per ticket for supporters who pay cash for match tickets, a supporter claims.
Phil McKeown said he had gone to buy tickets in person at the box office but refused when told of the fee.
He said: "They are ripping off loyal fans who they know will turn up in droves because they want to watch."
The club said it is "working to standardise fees and provide more consistency and transparency."
Mr McKeown wanted to buy tickets for pre-season friendly games, which would have cost £12.90 for Hull on 23 July and £18.90 for Valencia on 6 August.
"I was absolutely amazed at no time did I attempt to pay with a credit card," he said.
"It was a cash transaction and the lady shrugged her shoulders."
Mr McKeown decided not to buy the tickets and instead phoned the Hull City box office and inquired whether there was a booking fee.
"The lady on the phone was absolutely gobsmacked, she said, 'certainly not if you're paying cash'."
LFC is believed to the only club in the North West to apply charges for cash transactions.
Mr McKeown said: "You don't like having a go at Liverpool but we are the so-called 12th man and I feel like the 12th man is getting ripped off by the club that we all love."
LFC said the booking fee had been scrapped for advance purchases but still existed for some transactions.
Related Internet Links
The BBC is not responsible for the content of external sites.