Bolton Council's Millais painting goes to auction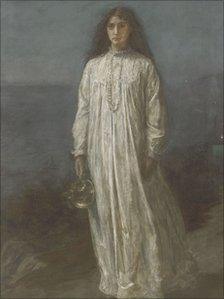 A valuable painting from Bolton Council's art collection is going under the hammer at Bonhams auction house in London.
It is thought The Somnambulist by the Victorian artist John Everett Millais could fetch £100,000.
The council is selling off 35 paintings to fund the restoration and preservation of its fine art collection, estimated to be worth £16m.
Six other works are also on sale with estimates of up to £15,000.
The Labour-run council's budget is being cut by £60m over the next two years so the "very difficult decision" was made to sell off some of the authority's 1,100 oil paintings, watercolours and drawings.
The first 11 paintings were sold last week, fetching £35,000.
It is thought that the Wilkie Collins novel The Woman in White may have been the inspiration for Millais to paint The Somnambulist.
Charles O'Brien, head of 19th Century pictures at Bonhams said the picture was "an unusual and entrancing work by arguably the most important Victorian artist of his generation".
Bonhams auction house said in its catalogue: "Victorians were fascinated by sleepwalking and preoccupied with all things occult and dreamlike.
"They were interested in clairvoyance, séance and poltergeists and this ghostly picture of a fragile and vulnerable looking girl would have appealed greatly to contemporary taste."
'Extraordinary circumstances'
The picture was exhibited at The Royal Academy in 1871 and as part of Manchester's Royal Jubilee exhibition in 1887.
Matthew Constantine from Bolton Council's museum service said that selling off the work was a last resort.
"If it weren't for the extraordinary circumstances that the council finds itself in, then it [selling art] is something we wouldn't be doing.
"But we live in an age of difficult decisions and the art world is not an exception to that."
Future sales include a painting called Seagulls and Sapphire Seas by Robert Gemmell Hutchison, worth up to £180,000, plus an etching and a lithograph by Pablo Picasso.
Galleries are only allowed to sell paintings in exceptional circumstances and the money must go towards improving the remaining collection under Museums Association rules.
Related Internet Links
The BBC is not responsible for the content of external sites.