Elderly woman Beryl Carter left three days without food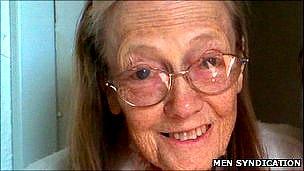 A bedridden elderly woman with dementia was left without food and drink in her house for three days when her care provider changed.
The care of Beryl Carter, 85, from Audenshaw, Manchester, was meant to have been transferred to Care UK from Tameside Council.
Care UK said it had not been informed that she had been discharged from hospital into its care.
A Tameside Council spokesman said the authority had begun an investigation.
Care UK said a communication breakdown had meant it did not realise that Mrs Carter had been discharged following a hospital admission.
Mrs Carter needs help to get out of bed, to dress and have meals.
She was discharged from hospital on 28 June and looked after by Housing21, a not-for-profit organisation, until 3 July.
On this date her care was meant to have passed to Care UK, but the firm says it was not informed.
Martin Kirkup, a spokesman for Care UK, said: "We can confirm that at no time before 7 July did we receive any notification that Mrs Carter had returned home from hospital.
"As soon as we became aware, a senior member of the team visited Mrs Carter immediately, made her comfortable and put in place the care she needed.
"We have a committed and trusted team of carers in Tameside and we are confident that Mrs Carter will receive the best quality care going forwards.
"We are working with the council and conducting our own investigation into how the delay in us receiving the notification occurred. "
Mrs Carter's family told the BBC they were sickened by what had happened and said the error could have been fatal.
Related Internet Links
The BBC is not responsible for the content of external sites.