Radcliffe and Maconie receive Bolton University degrees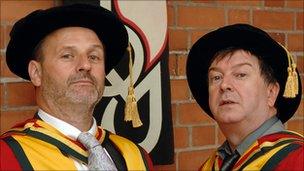 Broadcasting duo Mark Radcliffe and Stuart Maconie have received honorary degrees at a graduation ceremony in Greater Manchester.
The presenters, whose radio show airs on BBC 6 Music, were awarded doctorates for their contribution to broadcasting by the University of Bolton.
The pair, who have presented together for over 14 years, joked they would now be known as the "doctors of pop".
Also honoured were actress Amy Nuttall and Professor Lord Parekh.
Radcliffe and Maconie recently switched to 6 Music from Radio 2.
Mark Radcliffe said: "It is fantastic to be part of your special day. I am very proud to be from Bolton and I am deeply honoured the University has given me this award."
Stuart Maconie, who lectured at Wigan Technical College before joining the NME, added: "Education is absolutely vital, it is the mark of a civilised society and days like this are amazing," he said.
"Hearing about the global reach of the University of Bolton and how students come from all over the world to be here, I would say I hope those visiting have time to stay a while. This part of the world is wonderful and one of the most welcoming."
Related Internet Links
The BBC is not responsible for the content of external sites.