Police investigate three deaths at Stepping Hill Hospital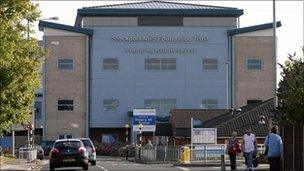 The deaths of three patients at a Stockport hospital are being investigated after a batch of contaminated saline was found.
Police said an inquiry into the deaths of two people was extended following the death of an 84-year-old man.
All three - including another man aged 71 and a woman, 44 - were patients at Stepping Hill Hospital.
Staff alerted police on Tuesday after finding vials of saline solution had been tampered with.
A further 11 people are believed to have been affected by the incident but were not seriously harmed as a result.
The discovery came after several patients suffered lower than normal blood sugar levels.
'Deliberate contamination'
Assistant Chief Constable Terry Sweeney said: "Greater Manchester Police's priority is to prevent any further harm to patients.
"We have recovered a number of ampoules of solution and are working closely with the hospital to try and get to the bottom of what has happened."
He said all deaths at the hospital meeting certain criteria would be referred to the coroner adding: "It is important that people are clear in their minds that, as things stand, we do not know for sure if the contaminated saline contributed to the deaths of these three people.
"That said we have someone deliberately contaminating saline in the one place that people should feel they are being most cared for."
Dr Chris Burke, chief exectutive of Stockport NHS Foundation Trust, said: "It was the staff at the hospital who brought this matter to our attention and I've asked them to continue to be extra vigilant to help safeguard patients."
He said all saline ampoules in the hospital had been replaced and security increased at the site.
The cause of death in all three cases is not yet known.
Police said they had recovered "a number of ampoules of solution" from the hospital.
The hospital has launched a telephone hotline for patients or relatives affected by the case on 0161 419 4888.
Related Internet Links
The BBC is not responsible for the content of external sites.