Stepping Hill Hospital bosses meet police in deaths inquiry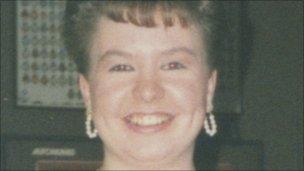 Senior managers at a Stockport hospital are meeting detectives as the investigation into the deaths of three people there continues.
Mother-of-two Tracey Arden, 44, and two men, aged 71 and 84, died following the deliberate contamination of saline solution at Stepping Hill Hospital.
The hospital has confirmed no-one has been suspended over the incident.
Detectives believe insulin was injected into saline containers which were used by at least two wards.
They are treating the deaths as unexplained and the results of post mortem investigations are not expected until later this week.
Ms Arden was a long-term multiple sclerosis sufferer who was admitted to hospital for routine drug treatment on 7 July.
Her family visited her on the day she died and believed she was responding well to the treatment, but hours later she passed away.
Ms Arden's brother Gary said: "During the afternoon my mother and father had been to visit her, then they left her looking like she was recovering well.
"Colour was coming back into her cheeks and so on, she was responding well to her treatment.
"They left and then a relatively short while afterwards they received a call from the hospital that Tracey had taken a turn for the worse and they think they should come on and see her.
"By the time my mother and father arrived she had just passed away."
The identities of the two men whose deaths are being investigated are expected to be released later.
Security at the hospital has been stepped up to protect patients currently undergoing treatment there as police try to identify the person or people behind the deliberate contamination.
Anyone entering may now be searched and police are interviewing staff and visitors.
Related Internet Links
The BBC is not responsible for the content of external sites.