Stepping Hill deaths inquiry: Two male patients named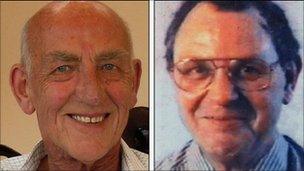 Two men who died after saline solution was deliberately tampered with at a Stockport hospital have been named.
George Keep, 84, from Cheadle, and Arnold Lancaster, 71 of Romiley, died at Stepping Hill Hospital last week.
Their deaths are being treated as unexplained along with that of Tracey Arden, 44, who died on 7 July.
Detectives believe insulin was injected into saline containers which were used by at least two wards at the Greater Manchester hospital.
Post-mortem examinations are being carried out on the three former patients but the results are not expected to be released for several days.
Police said Mr Keep was admitted to the hospital on 27 June and died on 14 July.
His family paid tribute to a devoted family man, calling him a "devoted husband, father, grandfather and great-grandfather".
"George had, in his younger years, been a hard-working Cheadle/Gatley man who was enjoying his retirement with the family and friends in spite of his failing health," they said.
His daughter Carolyn Knowles spoke of her dismay at learning her father's death could be suspicious and that his burial would have to be delayed because of the inquiry.
She said: "I'd seen the reports about the other two people, and when the policeman arrived outside I was sat in the other room, I opened the door and I just said 'it's my father isn't it?' And he said 'yes'.
"It's just going through your mind, all the same thing, you're trying to analyse the situation and you can't, you just can't."
Mr Lancaster died on 11 July.
Mother-of-two and grandmother Ms Arden, from Heaviley, Stockport, was a long-term multiple sclerosis patient who was admitted to hospital for routine drug treatment on the day she died.
Her family said she appeared to be responding to treatment when they last saw her but hours later she had died.
Ms Arden's funeral was due to be held tomorrow but has been postponed as tests are carried out on her body.
South Manchester Coroner John Pollard is due to open inquests on all three deaths next week.
All future deaths at the hospital that show any signs of relevant symptoms will also be passed to Mr Pollard.
Senior managers at the hospital met detectives earlier to discuss the investigation.
The hospital has confirmed no-one has been suspended over the contaminated saline solution, but security has been stepped up to protect patients currently undergoing treatment there.
Anyone entering may now be searched and police are interviewing staff and visitors.
Eleven people who survived the effects of the tampered medication will also be interviewed.
Related Internet Links
The BBC is not responsible for the content of external sites.