Two prisoners escape from jail van in Manchester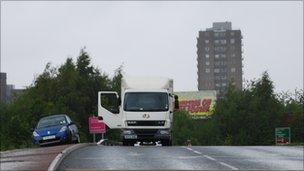 Two prisoners have escaped from a jail van after it was ambushed by armed men on the outskirts of Manchester city centre.
Kirk Bradley and Tony Downes, both 25, fled after a number of men attacked the van in Trinity Way at about 0830 BST.
The pair were being transported to Liverpool Crown Court, where they were on trial.
The men, both from Liverpool, stand accused of conspiracy to possess firearms with intent to endanger life.
They are also charged with conspiracy to commit criminal damage with intent to endanger life.
The gang fled in a Saab, which was found abandoned about a mile away in Barrow Street, Salford.
A security guard was taken to hospital. His injuries are not believed to be life-threatening.
A spokesperson for security firm G4S said: "At around 0820 BST, one of our prisoner escorting vehicles was involved in an incident on the outskirts of Manchester.
"The vehicle, which was en-route to Liverpool Crown Court carrying two prisoners, was intercepted by several armed men wearing balaclavas.
"The men stopped the vehicle, assaulted the driver and forced him to open the vehicle and release the prisoners, who then escaped in another vehicle.
"Our crew immediately alerted police. The injured driver, who was struck on the head, has been taken to hospital where his condition is being assessed."
Det Sgt Paul Copplestone urged anyone with information to contact Greater Manchester Police.
Members of the public are urged not to approach the pair.
Det Sgt Copplestone said: "We are sure that this incident was witnessed by many people at a very busy time of the morning. The Saab was driven off towards the M602 motorway. We would urge witnesses to contact us."
A spokesman for the prison service confirmed a prisoner escort van, carrying two inmates, had been involved in "an incident".
"This is a matter for the police," he added.
The incident caused long delays in the area, as Trinity Way is one of the major routes around the city centre.
Related Internet Links
The BBC is not responsible for the content of external sites.