Greater Manchester Police go online to catch rioters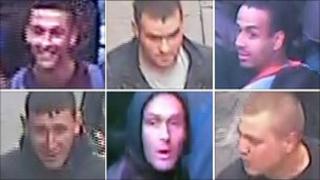 Greater Manchester Police has released pictures online of people it wants to speak to in connection with rioting in Manchester and Salford on Tuesday.
Following the Metropolitan Police's example, GMP has issued the images through photo-sharing site, Flickr.
They have also asked the public to post their pictures of troublemakers to the force's Facebook page.
GMP Chief Constable Peter Fahy said they would not rest "until we have put these criminals before the courts".
Mr Fahy said the images had come from "CCTV footage that we have reviewed overnight".
'Want to help'
"We are publishing these images on our website and through the GMP Flickr site.
"We will not rest until we have arrested and put these criminals before the courts."
Mr Fahy said that the force had received "messages of support from people across Greater Manchester and the rest of the country".
"They want to help us to identify the people who have been responsible for bringing these shameful scenes to our streets.
"They want to help us ensure that these criminals are brought to justice.
"We have received hundreds of images through Twitter and Facebook and we are working through these."