Boundary change plans put Salford in Manchester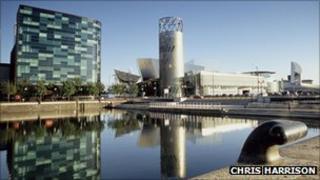 Plans to change election boundaries could see Salford Quays becoming Manchester Central and the Chancellor's Tatton constituency disappearing.
The Boundary Commission is considering cost-cutting proposals to reduce the number of MPs from 650 to 600 by amalgamating some constituencies.
George Osborne's seat would be split between a new Northwich seat and Tory-held Macclesfield.
Salford and Eccles MP Hazel Blears has branded the plans "a disgrace".
Some seven seats would be lost across North West England, reducing the region's total to 68, if the plans, which are subject to a two-year consultation period, go ahead.
Under the proposals, only Bury South and Wigan within Greater Manchester would remain unchanged.
Counter-proposals
The government asked for the review as it believes a smaller Commons will reduce running costs and the re-drawing of some boundaries will produce more uniform numbers of voters.
The University of Salford which is about to change its logo to incorporate "Manchester", Salford Cathedral and Media City UK, which is the new home of BBC North, would all be moved into Manchester Central.
Ms Blears said: "It's a disgrace that a significant part of Salford's identity can be considered for being pulled into Manchester.
"We shall be drawing up a list of counter-proposals for consideration."
The Labour MP said that large parts of her existing constituency would be taken into the Swinton seat.
She said that she was not concerned at this stage about how the changes may affect her vote, but was angry that the people of Salford were being asked to vote in a constituency from the neighbouring city of Manchester.
The Labour leader of Salford City Council, Councillor John Merry said that he was "absolutely appalled" by the proposals.
Elsewhere the University of Salford is to change its logo on September 19 to "University of Salford, Manchester".
Director of Communications, Chris Larkin said: "At the end of the day both nationally and internationally, people do not know where Salford is.
"The Manchester brand is hugely important in attracting students - We can't dismiss that and our research shows that most people don't understand what Greater Manchester is.
"The word Salford is more prominent than it's ever been in our logo, but we need Manchester as a locational device."
The Boundary Commission will publish revised proposals on constituencies next year, with finalised plans being submitted to Parliament for approval by October 2013.
The commission's chief executive, Simon James, said: "Parliament has set clear rules on what we can and can't do when it comes to developing our initial proposals.
"The commission was given clear principles and from that starting point we have found a solution that we think best meets Parliament's rules.
"Now we want to know what people think of our initial proposals."