Greater Manchester Police Authority calls for riot compensation grants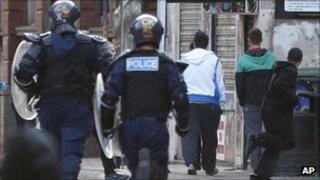 Plans to improve policing in Greater Manchester will be scrapped unless the government helps pay riot compensation, the police authority has warned.
The 42-day deadline will pass later for businesses damaged in the 9 August disturbances to submit claims.
The Greater Manchester Police Authority (GMPA) has estimated that the cost of extra policing and compensation payments total more than £5m.
It said that without extra grants the force's capability would be "eroded".
'Deal with consequences'
Greater Manchester Police's (GMP) annual £580m budget has been reduced this year by £50m with a further £85m savings to be made over the next two years.
Ian Hargreaves, chair of the GMPA's value for money committee, said the authority was responsible for compensating businesses where the police had failed to protect them from looters and criminal damage.
He added that the £1m promised to affected businesses last week from the government's High Street Fund would go directly to traders and could not be used to the reduce GMPA's liability.
He said: "GMP did everything to stop the result of these riots, but they were overwhelmed. It's history and we've got to deal with the consequences.
"The losses must be reimbursed by the police authority. In the first case businesses will make claims to the insurance companies, but the insurance companies can then claim their losses from the GMPA.
"If we're paying for this we can't pay for policing"
'Frontline services'
Mr Hargreaves ruled out any more job losses, but said: "The plans we had to improve policing just will not be able to go ahead.
"We want to be able to put more officers on the frontline and increase neighbourhood policing in communities by restructuring our staffing and reducing the number of officers used in administrative duties."
In order to reduce costs in line with budget cuts GMP has already invested in police community support officers, customer service desks and appointments for non-emergency issues in order to free up officers for frontline duties.
It is also considering closing some inquiry desks and has increased its use of social networks as a means of releasing manpower.
Chief Constable Peter Fahy has said the changes would create an improved force.
A Home Office spokeswoman said: "The government has made clear that it will support the police with the additional costs they face to ensure frontline services are not hit.
"We are already speaking to and working with police forces and authorities to help them make their applications, so that payments can be made as quickly as possible."