Photo sent from Manchester bus death man's stolen phone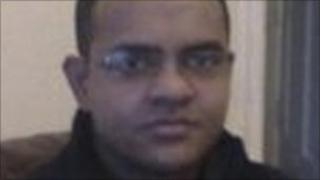 Police investigating the death of a man who was hit by a bus as he chased a thief say a photo was sent from his phone days after he died.
David Mark Schofield, 21, died when he was hit by the bus in Oxford Road, Manchester on 10 September.
The image was sent from Mr Schofield's phone - which was stolen moments before he was hit - via Blackberry Messenger four days after his death.
Greater Manchester Police now want to speak to the man who is in the photo.
The photo was sent to a friend of Mr Schofield who had noticed his Blackberry Messenger (BBM) profile had disappeared from her contacts.
She sent a message to his phone asking to be added as a friend, her request was acknowledged and the user sent the picture and the name Berry, police said.
The girl, who lives in Wales, sent a response referring to Mr Schofield's death and the theft.
She was then deleted as a contact and her number blocked from contacting the phone through BBM, police said.
A man, 19, has been arrested on suspicion of theft and bailed.
Det Insp Andy Naismith, of Greater Manchester Police, said: "David was a bright young man with a very promising future and his death has devastated his family and friends.
"To give them some solace at this terrible time, we want to solve the theft that led to him chasing down the road after the thief.
"The fact that his phone is still out there and being used is of tremendous distress to those who knew him.
"The man in this picture may have nothing to do with it, but it would only be right for us to talk to him. If it is someone you recognise, please contact us.
"Also, if this is you, please come forward whether you have anything to do with the theft or not - I am sure that if you are innocent and someone is sending your picture out from a stolen phone, you will be keen to clear that up with us."