St Mary's Hospital stops providing formula milk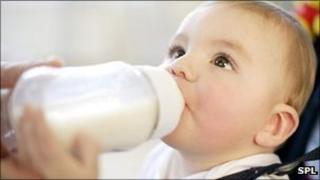 A maternity unit in Manchester is to stop providing new mothers with free formula milk, it has been announced.
Mothers choosing to bottle-feed their newborn babies at St Mary's Hospital have traditionally been given formula milk for free.
However, from November, new parents will have to take in their own milk.
The hospital said it was "responding to women's needs" and that it was not due to cost-cutting or the centre wanting to promote breastfeeding.
Kathryn Murphy, head of nursing and midwifery at the hospital, said: "Today on our post-natal ward we have got 56 women who are in-patients.
"Out of that group only five are choosing to bottle feed their babies.
"Of that five, three of these mums we would still provide infant feeding formula post November due to medical conditions either in themselves or the baby.
"It is the way women are moving forward. We are just responding to the women's needs."
The hospital added that women were free to choose whether they wanted to breastfeed or use a bottle.