Tony Sullivan died in Cheshire helicopter crash landing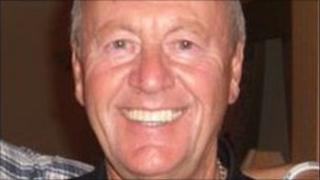 A 69-year-old businessman died when his helicopter crashed as he tried to make an emergency landing near his Cheshire home, an inquest heard.
John Anthony Sullivan, who was known as Tony, was on a short flight in his own helicopter on 15 November 2009 when he experienced engine trouble.
He may not have seen a slope and a rotor blade struck the ground causing him to lose control, jurors heard.
The jury at Warrington Coroner's Court returned a verdict of accidental death.
Mr Sullivan, the Managing Director of engineering firm Conserve and a father-of-four, suffered massive head and chest injuries and died at the scene, the hearing was told on Tuesday.
His son Paul, also an amateur pilot, said his father was "very, very careful" and rigorously checked the Robinson R22 Beta two-seater helicopter before going out.
'Mechanical thud'
Witnesses described hearing noises from the engine before it disappeared below the landscape.
One, who heard the crash, described hearing a "mechanical thud". He then heard the aircraft hitting the ground.
Farm worker Albert Wainwright, first at the scene of the crash, said the aircraft landed on its side and appeared to be leaking fuel.
Emergency services were called and Mr Wainwright tried to stay with Mr Sullivan but had to move away from the petrol fumes.
Wing Commander Graham Maidment, a specialist aviation pathologist, found Mr Sullivan had died from head and chest injuries consistent with a helicopter crash.
Mark Jarvis, a senior investigator for the Air Accidents Investigation Branch, told the jury the helicopter had been maintained in accordance with procedures.
He added that part of the helicopter's ignition system had suffered corrosion after rain water leaked into it.