Manchester United player Tony Dunne auctions 1968 shirt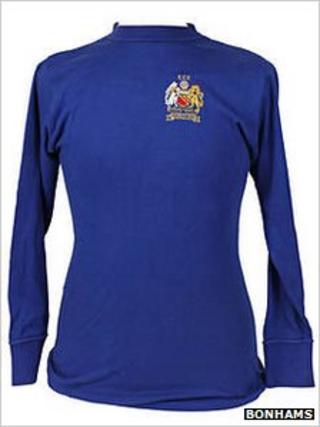 The Manchester United shirt worn by left back Tony Dunne in the 1968 European Cup Final is being auctioned by the former footballer.
Mr Dunne's 1963 FA Cup winners medal and 10 Republic of Ireland caps are also on sale at Bonhams in Chester.
The number three shirt has a guide price of £10,000 to £15,000.
The sale also has items from Munich air disaster survivor Ray Wood and Southampton legend Terry Paine's 1966 World Cup winner's medal.
Mr Dunne, 70, is believed to be selling the items to raise money for his family.
The shirt the left-back wore in United's 1963 FA Cup victory will also be auctioned and is expected to fetch between £4,000 and £5,000.
Mr Wood, who died in 2002, was a goalkeeper for Manchester United and was on board the plane which crashed at Munich airport in 1958, which resulted in the death of 23 people including several of the famous "Busby Babes".
Among the items on sale relating to the former player are a 1958 FA Cup runners-up medal and an England international goalkeeper's jersey.
Mr Paine was one of four England players who played for their country in the 1966 World Cup tournament but who did not play in the final.
He received his winner's medal from the then-Prime Minister Gordon Brown in 2009, after a Football Association campaign persuaded FIFA to issue the squad members with medals.
In 1966, it was only the team that appeared in the final who were awarded a medal, but the practice has since changed and now medals are given to all members of a winning squad.
His medal is expected to make between £20,000 and £25,000.