Manchester cuts: Millions slashed from adults budget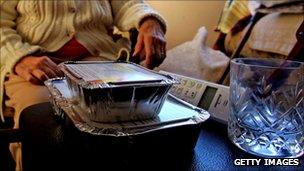 Millions of pounds of council funding which helps some of Manchester's most vulnerable people is set to be cut.
Councillors will consider savings, described as "difficult decisions", which will affect services from help for battered wives to meals-on-wheels.
Nearly 60 voluntary groups will lose all or part of their grants as the council seeks to cut £2m from the sector.
Support for adults could be reduced by £8m over two years.
Liz Bruce, the council's strategic director for adults, said the reduction of funding for 59 voluntary groups was just under 17% of the council's budget for these groups and would see funds targeted at the most vulnerable people.
Twenty-two of these groups will lose their council funding completely including several carers' support groups and some organisations which give advice to people with mental illnesses.
More than half of the proposed £8m reduction in the Supporting People budget will come from the council's spending on homelessness, people affected by drug and alcohol abuse, ex-offenders, travellers and refugees.
More than £1m will be lost from its mental health spending, more than £900,000 from people with learning disabilities and more than £800,000 from elderly provision.
Among the services for adults facing closure are supported accommodation projects for the mentally ill, women who have suffered domestic abuse, former prisoners and single homeless people.
Councillor Glynn Evans, the council's executive member for adult services, said: "Manchester City Council has had to take some difficult decisions following the severity of central government's financial settlement earlier this year.
"From the outset of this process, we have said that the tough choices we have to make will affect people's lives."
The council's Health and Wellbeing Overview Committee will discuss the proposals next Thursday ahead of a council executive meeting on 26 October.
Related Internet Links
The BBC is not responsible for the content of external sites.