Greater Manchester fire cuts 'have associated risks', chief says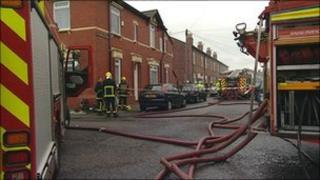 Greater Manchester's fire chief has said that plans to cut the service's budget by £23m will lead to fewer firefighters and slower response times.
The county's fire service faces a cut of £23m over the next three years under the government's Spending Review.
At the start of a public consultation, Steve McGuirk said that some jobs would have to be cut.
He said: "The thing we have done is to make the changes we're proposing the least risky that are possible."
He said response times to more remote areas would be slower as a result of the cuts.
He added: "We can't absorb cuts of this magnitude without it affecting the service in some way shape or form, so it is absolutely true to say overall there will be less firefighters and in some cases our response times will be slower.
"There is absolutely nothing we can do about that.
"Yes there are some risks associated, there are some worries, but life is a risky business and on balance we're confident we've got a good plan."
'Can't kid public'
Paul Fogarty, Fire Brigade Union secretary, said that up to 250 firefighters would lose their jobs over the next few years.
He added: "We are cut to the bare bone. We have no other savings left to make unless it's to the detriment of the public.
"The number of firefighters turning out to incidents will be reduced, that will be particularly in the early hours between midnight and 7am.
"Unfortunately the evidence shows us that when people have fatalities in fires it's in the midnight hours.
"What we're saying is yes there is a deficit from the budget brought on by government decisions, but we can't kid the public anymore.
"These cuts will impact their safety and have an adverse effect on the level of service we provide the public."
The public consultation in to how the cuts will be handled runs until January 2012.