Motocross benefit cheat Jake Preston's mum admits fraud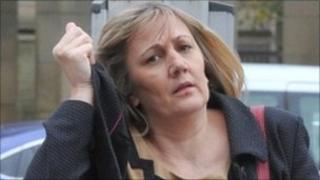 The mother of a man who was filmed winning a motocross championship despite claiming he could not work has admitted benefit fraud.
Julie Ann Preston, 43, claimed more than £34,000, saying her son Jake had syringomyelia, which had caused him severe pain from the age of four.
Last week, Jake was sentenced to a 12-month community order and 250 hours unpaid work after admitting fraud.
His mother, of Bolton, was told she would be sentenced on 18 November.
Judge William Morris warned her a jail term could not be ruled out. He said: "I will simply say it is a lot of money and all options are open to me."
Jake raced bikes since the age of 10 and was filmed winning a race during the British Masters Motocross Championships in Whitby, North Yorkshire.
He had claimed the higher rate of disability living allowance (DLA), for people who are virtually housebound and need "significant care" both during the day and night.
He was convicted of falsely claiming £15,128 in benefits at Bolton Magistrates' Court because he made a claim in his own right after turning 16 in 2007.
He had filled in the form claiming he could not walk a yard without severe pain and having to stop to rest.
On Friday, his mother, from Loweswater Road, Farnworth, admitted fraudulently claiming DLA between October 2001 and July 2007 while her son was under 16.
She admitted failing to notify the Department for Work and Pensions of a change in her son's circumstances - the improvement in his physical abilities.
The court heard it was not clear when her son's condition improved to the point where he no longer should have been claiming the benefits.