Greater Manchester Police spends £100k on HQ artwork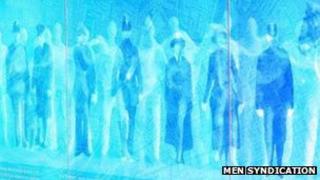 A police force which is having to find £134m of savings has spent £100,000 on artwork for its new headquarters.
Greater Manchester Police (GMP)'s new £64m head office in Newton Heath will replace its current Old Trafford base.
The two murals - costing £60,500 and £40,500 - commemorate the father of modern policing Sir Robert Peel. They will hang in the building's entrances.
The force said the pieces of work were "an integral part of the interior design and complete the building".
A spokeswoman added: "They represent the history of GMP, capture values that our staff and officers hold dear and are designed to motivate.
"They are iconic pieces in a new force headquarters that will be a point of interest to the public and all its visitors."
GMP has to save £134m by 2015. Almost 3,000 jobs - split between officers and civilian staff - are expected to be shed over the next four years.
Work began on the new building before the government spending cuts. The majority of funding is from Greater Manchester Police Authority (GMPA).
Up to 1,000 members of staff are due to work at the new site. Some will start moving in by the end of this year.