Sir Bobby Charlton launches landmine research charity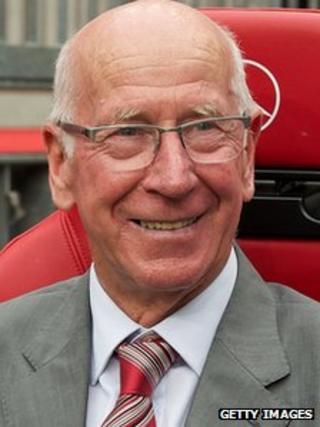 Football legend Sir Bobby Charlton has founded a charity to research new ways of detecting and clearing landmines.
Find A Better Way will see the universities of Manchester and Lancaster work with the Mines Advisory Group (MAG) and security firm Rapiscan Systems to develop new technologies.
Sir Bobby said there were around 110m active landmines in the world.
"Using the technology at the moment, it would cost $30bn (£18bn) and take 1,000 years to clear them up," he said.
More than 65 countries have landmines or explosive remnants of conflicts still in situ, with some even having problems with mines laid during World War II.
Sir Bobby said he had first become aware of the issue when he visited Sarajevo after the conflict in the former Yugoslavia in the 1990s.
Shrapnel and debris
"When I went, I saw the absolute mayhem that these mines cause," he said.
"I was coming back on the aeroplane and I thought 'there must be a better way'."
As a result, he spoke to global airport security firm Rapiscan Systems, the University of Manchester, Lancaster University and MAG, a Manchester-based munitions clearance charity which was awarded the Nobel Peace Prize.
MAG chief executive Rob White said new technology was needed, as the present system of detection was "literally the needle in the haystack style".
"Fundamentally, we've been using the same technology since the Second World War, which is basically a metal detector," he said.
"A lot of people think that mines are made of metal, but they are mainly plastic, so we're looking for the smallest part - the firing pin.
"We look for the smallest bit of metal in an area contaminated with shrapnel and debris, so it can take a bit of time.
"We're good at clearing mines, but we need to clear faster and safely, and that is what Find A Better Way is about."
He said the "vision that Sir Bobby has had is unique".
"I think this is one of the most exciting things that has happened in the sector for a long time."